Adult 12 mile paved ride - Adult 12 mile paved ride
Sep 21 (Saturday)
Washington Virginia Volunteer Fire and Rescue
Adult 33 mile paved ride - Adult 33 mile paved ride
Sep 21 (Saturday)
Washington Virginia Volunteer Fire and Rescue
Adult 60 mile paved ride - Adult 60 mile paved ride
Sep 21 (Saturday)
Washington Virginia Volunteer Fire and Rescue
Adult 20 mile Rough Ride - Adult 20 mile Rough Ride
Sep 21 (Saturday)
Washington Virginia Volunteer Fire and Rescue
Adult 30 mile Rough Ride - Individual Age group/open
Sep 21 (Saturday)
Washington Virginia Volunteer Fire and Rescue
Child 12 mile paved ride - Child 12 mile paved ride
Sep 21 (Saturday)
Washington Virginia Volunteer Fire and Rescue
Child 33 mile paved ride - Child 33 mile paved ride
Sep 21 (Saturday)
Washington Virginia Volunteer Fire and Rescue
Child 60 mile paved ride - Child 60 mile paved ride
Sep 21 (Saturday)
Washington Virginia Volunteer Fire and Rescue
Child 20 mile Rough Ride - Child 20 mile Rough Ride
Sep 21 (Saturday)
Washington Virginia Volunteer Fire and Rescue
Child 30 mile Rough Ride - Child 30 mile Rough Ride
Sep 21 (Saturday)
Washington Virginia Volunteer Fire and Rescue
This is one of Virginia's most beautiful and challenging one-day bike tours.
Your support helps provide medical and dental care to families that cannot
afford it on their own. Every rider has an equal chance to win one of our
fabulous donated prizes.
Infamous RoughRide
20/30 mile options both on and off road for the rough and rugged
Rappahannock Road Tour
30/60 mile paved course for the true road warrior
Participant's Route
12 mile paved course for the "easy riders"
Sag wagons and food stops along course
Entry includes full lunch to follow provided by the Washington Volunteer Fire and Rescue
Breakfast is available from 7AM to 11AM for $8.00/person
Ride start time 9AM this year! 
Event details and schedule
9:00 AM ride start
7:30 AM registration opens
8:30 AM registration complete
Park at Washington Volunteer Fire & Rescue (10 Firehouse Lane, Washington, VA 22747)
Helmets required
Signed waiver required
Children under 16 must be accompanied by an adult
RAIN or SHINE!
Get ACTIVE on the Go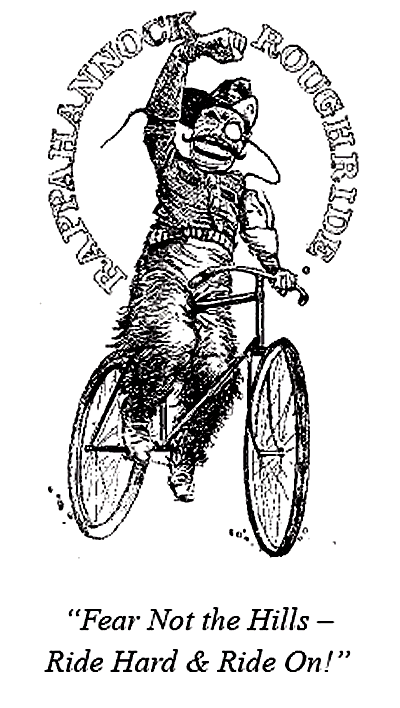 Map & Direction
Washington Virginia Volunteer Fire and Rescue
•
10 Firehouse Lane
Washington
,
VA
22747
Get Directions