Cycling-11,25,45, or 62 Mile - Ages 0-10
Aug 21 (Sunday)
Joint Recreational Park
Cycling-11,25,45, or 62 mile - Individual Age group/open
Aug 21 (Sunday)
Joint Recreational Park
Cycling-11, 25, 45, 62 mile - Individual Age group/open
Aug 21 (Sunday)
Joint Recreational Park
The Joe Fix Its 35th Annual Tour De Goshen!  Featured in Sport Illustrated and benefiting Inspire.
The Tour de Goshen is Orange County's BEST family event!
Date: Sunday, August 21, 2022.  Each ride has a different departure time, but come early for coffee, fruit and bagels!
Location: Joint Recreational Park, 118 Craigville Road, Goshen, New York, 10924. Take Route 17 to Exit 124 and follow the signs!
Event details and schedule
***** DAY OF REGESTRATION IS AVAIABLE****

There is a choice of four rides:
62 miles - 8:00am departure: A metric century with beautiful Orange County views you'll always remember. Leave earlier than 8:00 if you'd like. 
46 miles - 9:00am departure: A beautiful route for the conditioned rider. Note: On the 46- and 62-mile rides you will experience the wonderful people of Craigville Church who will sing and encourage you as you pass and stop for water!
22 miles - 10:00am departure: A route with a few hills and valleys and beautiful views.
11 miles - 10:30am departure: A route perfect for families, senior citizens and the casual rider.
Rider entry fee/donation:
$15 for children under the age of 10.
$25 for children ages 10 to 20.
$60 for adults.
Note: On Wednesday, August 18 the entry fees for all categories increase by $5 - register early!  Online registration will close Thursday, August 18.
All riders receive:
A Tour De Goshen 35th annual commemorative t-shirt,
Lunch following the ride of pasta, salads, sandwiches, hamburgers, hotdogs and more (starting around noon),
Cool bike stuff! Cliff Bars, GU, Hammer and other good stuff, and
Lots of support along the entire route.
Other particulars:
If you want to pay by check, make them out to Tour de Goshen and mail them to: Tour de Goshen, 20 West Main Street, Goshen NY 10924.
If you can't ride, you can still show your support and enjoy the day! Lunch is available for a $15 donation and commemorative tee shirts will be available for a $15 donation (for non-riders).
All riders must wear a helmet! Safety is extremely important to us. Also, all riders under age 18 must have parent or legal guardian signature.
This is a tour, not a race. No prizes will be awarded for finishing at the front, but lots of cool stuff will be given out throughout the day! A pledge form is available for those who would like to raise more money for Inspire: raise $250 and ride free!
For additional information, please call Joe Fix Its at (845) 294-7242. We hope to see you there!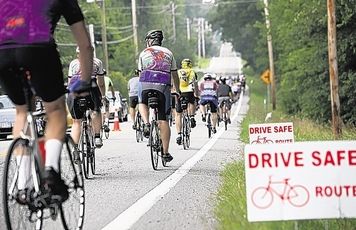 Map & Direction
Joint Recreational Park
•
118 Craigville Road
Goshen
,
NY
10924
Get Directions